THE BIG BAND SOUND JAZZ ORCHESTRA


The Big Band Sound 20-piece jazz orchestra recreates the swinging sounds of the big band era and beyond, performing compositions that span more than a century of music, including classics made famous by Duke Ellington, Glenn Miller, Ella Fitzgerald, Benny Goodman, Count Basie, and Frank Sinatra. In the tradition of these great orchestras, The Big Band Sound is a 20-piece jazz band consisting of six saxophones, four trombones, four trumpets, guitar, bass, piano, drums, and male and female vocalists.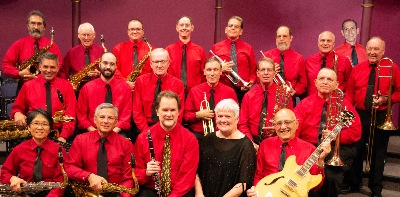 The Big Band Sound has an active library of hundreds of compositions, from jumping jive to slow and sweet, all to bring the brassy big band experience to life. The foundation of the band's repertoire is based firmly in the classic swing era and the Golden Age of the American Songbook, plus the band also performs a wide variety of music from then until today that continue the tradition of the stirring, full-bodied sounds of the big bands. The Big Band Sound performs the greatest music in the world in the most exciting setting of a live big band!


The Big Band Sound is based in Poughkeepsie, New York and has received rave reviews while performing throughout the Hudson Valley ever since 1975, including concerts, dances and shows at the Paramount Center for the Arts, Mohonk Mountain House, Sharon Playhouse, Vanderbilt Mansion, Mills Mansion, Boscobel, Locust Grove, Bard College, Vassar College, Marist College, SUNY New Paltz, Dutchess Community College, the Culinary Institute of America, West Point, Millbrook Vineyards & Winery, and local parks and festivals, in addition to appearing at private events and on local radio stations.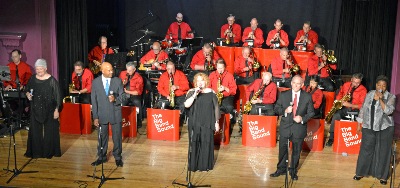 Notable appearances of The Big Band Sound include being the only big band ever invited to perform at the world famous Clearwater Festival, being featured on nationally syndicated radio shows, accompanying singing star Julius LaRosa, being the on-stage big band for a local production of the Broadway musical "The 1940's Radio Hour", and producing our own original "Swingtime!, Big Band Style", "Ella and Frank, Big Band Style", "Swingin' in the Holidays!, Big Band Style", "Showtunes!, Big Band Style", "More Sinatra, Big Band Style", "Broadway's Best, Big Band Style", "Sinatra Sounds, Big Band Style", "All-American, Big Band Style", "Hollywood, Big Band Style", "Broadway, Big Band Style", "The Best of the Big Bands", and "Glenn Miller and Count Basie Centennial" stage shows.

In addition, The Big Band Sound was recognized by the Dutchess County Executive's Arts Awards with their 2020 Special Citation Award.


The Big Band Sound has recorded three CDs, each containing over 73 minutes of the swingingest big band tunes! Swingin' In Poughkeepsie! is our newest recording and includes a variety of romantic standards and swinging favorites,
And The Angels Swing! Live! contains a wide selection of up-tempo classics as well as beautiful ballads and Live and Swingin'! is full of great tunes for swing dancing all night long!

Please check out our schedule of upcoming events to find out where you can listen and dance to the swinging sounds of The Big Band Sound. You're welcome to visit this site often - new events are constantly being added. We hope to see you at a dance or concert soon!

The Big Band Sound is run as a cooperative orchestra.

If you'd like to inquire about having The Big Band Sound jazz orchestra perform at your function or if you'd like to be added to our mailing list, please contact Dave Cole at dave@thebigbandsound.com

Click here to follow us on Facebook.